Sprinkler Head Upgrades and Repairs in Keller, TX
Do you feel like, no matter how many sprinkler heads you have or how often you run your sprinklers, you still have dry dull patches in your lawn? It could be that you need to invest in sprinkler head repairs, or to upgrade to entirely new sprinkler heads. Nozzle upgrades can make your system more efficient, decrease your water bills, and allow for optimum coverage of your lawn. Call us for sprinkler head upgrades in Keller today.

Sprinkler Head Adjustments

A sprinkler head adjustment is another great way to improve the look and feel of your lawn without spending a ton of money. Our sprinkler head adjustment service is extensive, and covers the following:

Check to make sure sprinklers are not watering walls or sidewalks

Eliminate wasteful runoff into storm drains or gutters

Check to ensure that sprinkler heads are watering evenly

Removal of sprinkler head clogs

Repair or replacement of broken sprinkler nozzles

Check for adequate zoning and coverage
We Handle all Sprinkler Heads and Nozzles

We can repair, replace, and service all kinds of sprinkler heads, including the following:

Pop up heads

Impact rotors

Gear driven and turf rotors

Spray nozzles

Bubblers

Rotary nozzles and rotators
Save Money With High Efficiency Rotator Heads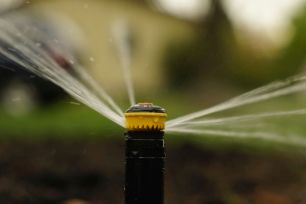 If you're in the market to upgrade your sprinkler heads, then you might want to invest in high efficiency rotator heads. These sprinkler heads offer a variety of benefits, including:

Reduced water runoff

Even water distribution

Water conservation

High efficiency

Lower monthly water bills

We'll help you to choose from popular high efficiency sprinkler heads like the Hunter MP Rotator, the Rain Bird RN series, and more. Call us today for sprinkler head upgrades and retrofits in Keller, Texas.
We're Just Around the Corner
If you need help with your sprinklers in Keller, Westlake, Southlake, Grapevine, Watauga, Hurst, Bedford, Euless, Haltom City, Saginaw, Fort Worth, Arlington, or Coppell, we're good as there. Of course, Keller, Texas is our home and our first priority, but we have no problem with traveling when we have the availability.
---