The Best Keller Sprinkler Repair Team, Bar None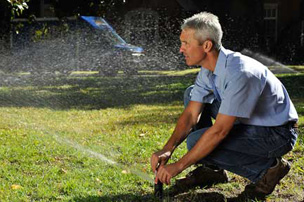 You still have the same sprinkler system you had 5 years ago, but now your yard is looking more like a shaggy mutt than the purebred it is. You haven't changed anything. You still mow it regularly and you haven't added anything. Why is this happening? Well, landscapes grow and mature and your sprinkler system needs to do the same. It's time to have an optimization service done by our Keller sprinkler repair techs.

Our Keller sprinkler repair team works with both manually controlled systems and those with automatic controller systems. While manual systems are nearly as common as they used to be since computerized controllers have come down in price, they are still out there. Of course, if you don't mind turning your system off and on by hand that's up to you. But, we will always offer to put on a controller for you.

A typical in-ground sprinkler system sends water through a network of underground pipes to the areas of your lawn that need it the most. The delivery system is made of various control valves, pop up heads and drip lines. A properly optimized system can be tweaked to deliver exactly the right amount of water to each and every plant in your planting bed. This type of coverage virtually eliminates the need to bring out additional temporary sprinklers to hit specific areas of the yard.

Is Your Sprinkler System Up to Date?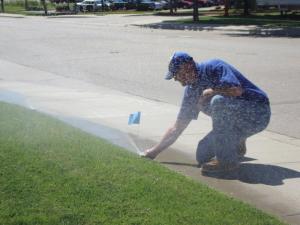 The problems with your current system can be linked to the evolution of your landscape. As plants grow and your lawn matures, water needs in different zones of your yard change but the system continues to deliver the same amount as when it was first calibrated. This can lead to zones of over and under watering that result in a less than perfect lawn.

Our Keller sprinkler repair team will start our diagnostic evaluation of your sprinkler system with a water usage audit. This will determine the correct amount of irrigation needed in the various zones of your yard. Once this audit is completed, we can look at your current system and determine where new sprinkler heads need to be placed, whether a drip system should be added, what pressure each individual heads should be spraying at and exactly what the watering schedule should be.
Why Call Us For Your Sprinkler Repair Needs?
Sprinklers are our specialty. We know which heads can survive being hit by a lawnmower, which timers you can program without an instruction book, and which valve systems will keep running for years to come. You won't find that from a handyman.

We come fully prepared for every job. We're not going to drive back to a store and bill you for the travel time.

We're familiar with all native plants and know their watering needs.

Our technicians excel at customer service. We can work around busy schedules, pets, overgrown plants, and a variety of other needs.

We provide accurate estimates for all work.

When we schedule a job, we'll be there when we say we will. Give us a call and see for yourself!
Our Keller TX Irrigation Team Covers Preventative Service

Our Keller sprinkler repair techs will also set you up with a preventative maintenance schedule to help you maximize the efficiency of your system and keep it in optimal working condition. Many sprinkler system owners think that their systems are set-it-and-forget-it, but they do need maintenance to continue to work properly. Our team can handle this for you. Call us to get started today!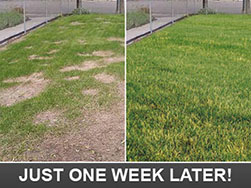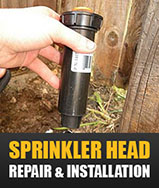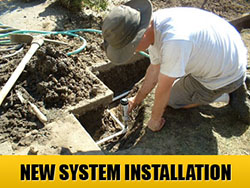 We're Just Around the Corner
If you need help with your sprinklers in Keller, Westlake, Southlake, Grapevine, Watauga, Hurst, Bedford, Euless, Haltom City, Saginaw, Fort Worth, Arlington, or Coppell, we're good as there. Of course, Keller, Texas is our home and our first priority, but we have no problem with traveling when we have the availability.
---
Need a great local plumbing contractor? There's a plumber in Keller that we're always happy to recommend.